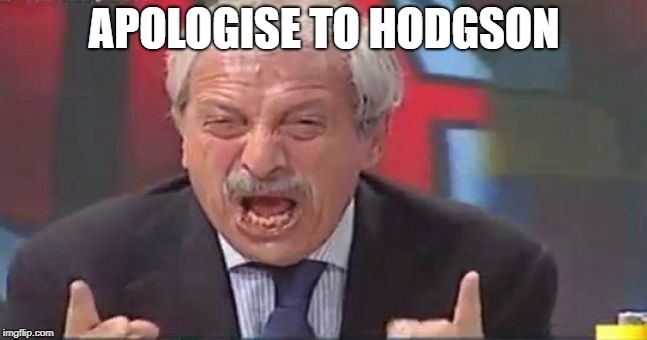 As you might be able to tell by my misuse of that Tiziano Crudeli image, this may be less calm and reasoned than most of my posts.
Now that Crystal Palace are safe, and were safe with more than one game to go, becoming the first team to stay in the top division of English football despite losing their first 7 games since 1899, I want every single journalist who was so rude to and about Roy Hodgson when he was appointed to write an apology. A full-on mea massima culpa if possible.
I would prefer a handwritten one, delivered on bended knee, but I accept typewritten and published in a national newspaper. I am being good and not suggesting it needs to be written on vellum, just in case any of them are vegetarians.
Why am I being quite so *so* about this?
I don't have any especial fondness for Hodgson. I think he's a gentleman in a sport where that's rare and unrewarded (see also Chris Hughton and his many trials and tribulations). Hodgson's never managed any team I support, and he's managed two teams I regard as sworn enemies (Inter Milan and Switzerland).
There's no place in my heart for Crystal Palace. I like the eagle, but that's about it.
No, my objection to the criticism of Hodgson when he took over was that very few of the criticisms were football-related. Most of them were personal and unnecessarily mean.
It's unnecessary meanness I object to.
Criticise the formations the man chooses, the style of play of his teams or the players he picks, don't bash the man. An ad hominem isn't any better just because you're a professional writer.
Especially when the criticisms turn out to be bunkum.
I think the comments about Hodgson's age have more to do with English journalists's peculiar obsession with youth than any truth about what age a manager is at his best at.
Complaints that Hodgson didn't have the fire needed to keep a team up seem to be based on 3 misconceptions:
1 – Fire is the required thing for a coach in this situation.
I get the idea. In the fix Palace found themselves in, you need a manager who can get players to play beyond their capabilities.
But is fire the way to do it?
I have no idea how you'd quantify fireyness to judge. I do know that I have seen two footballing miracles that covered more than one match (Greece 2004 and Leicester 2015-2016). Neither them was for someone I'd call firey.
It's noticeable that none of the great rugby union or rugby league managers are what you'd call firey either.
I think the English football press have been seduced by Mourinho, Klopp and Simeone. That's understandable – let he who has not been seduced by one of those three cast the first stone – but their way is not the only way.
2 – Hodgson in front of the press is Hodgson in the dressing room. I've got no knowledge as to whether that's true or not, and I doubt most football journalists have either. We all know that presumptions in the absence of evidence are a bad thing. Someone might want to tell the press!
3 – England's failure in Euro 2016, as exemplified by the loss to Iceland, was all Hodgson's fault. That seems to ignore England have been inexplicably bad since 1996. Yes, I'll grant that they've been unlucky (South Africa 2010 and the goal that wasn't) or had penalty shoot-outs (which are a coin toss at the best of times) but at this point, I doubt the combined spirits of Paisley, Shankly and Busby could make an England team play to their potential. Note, I am not even saying win, just play well.
An argument could be made that Hodgson's Liverpool didn't play well either. And that's probably true, but every fan of every team can think of at least one occasion where a manager and a team combination didn't work out despite both manager and team being good separately.
I think a manager like Hodgson is what was needed in Crystal Palace's situation. Someone who can analyse what talent he has at his disposal, the experience to know how to use that talent to its best effect against other teams, the knowledge that there will be setbacks and the ability to get the team back on track after them.
That journalists didn't see that, didn't think Hodgson had these qualities, that is much of a muchness. That they chose not to attack his football but the man himself, with spite and vitriol, that's what they need to apologise for.