I would like to say this has not been delayed because I have been sent into the pit of despair by England, again.
I would like to say it wasn't that, and the delay is partly because real life got real in a variety of ways, but England have done it to me again.
I was in the crowd at Wembley when New Zealand beat England in the last 30 seconds of the semifinal in 2013.
I have now been in the crowd as they lost a semifinal in golden point extra time.
Because a Samoan who had never scored a drop goal before scored one.
I start to feel I might be a jinx.
The only saving grace is that England did it to better people than me too.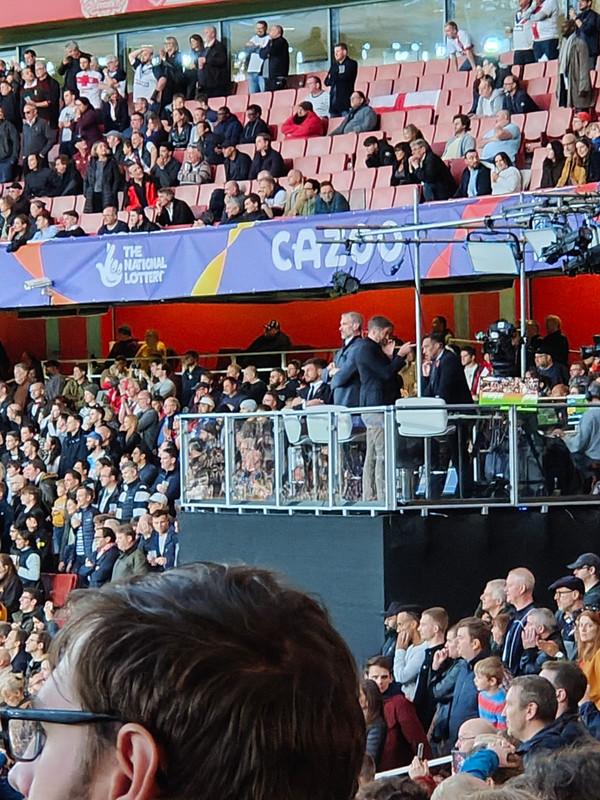 Photo of Jamie Peacock and Willie Poching looking nervous courtesy of L – I was too busy worrying.
So much of what England did right in the group stages and the quarterfinal, they just didn't do in the semifinal. Part of that was their own mistakes (particularly trying to force passes that just weren't on) but partly it was Samoa dominating the pitch.
Field control is as much a thing in rugby league as ring and octagon control is in fighting, and Samoa controlled the pitch magnificently. Compare where on the pitch England had to kick on the 5th versus where Samoa were doing it.
It was clear in the stands. Also clear in the stands was the gap in the right side of England's defence between Dominic Young and Kallum Watkins – and if I could see it, Matt Parish could too, and that's where Samoa kept attacking.
My pre-match guess, based on the data, for the starting 13 was "Williams, Welsby, Young, Makinson, Burgess, Hill, Bateman, Farnworth, Radley, Whitehead, Watkins, Tomkins and McIlorum.
13 out of 13 guessed correctly, which is a nice confirmation that the methodology is showing something real.
England were involved in 87 point-scoring moments.
The number of point-scoring moments per player: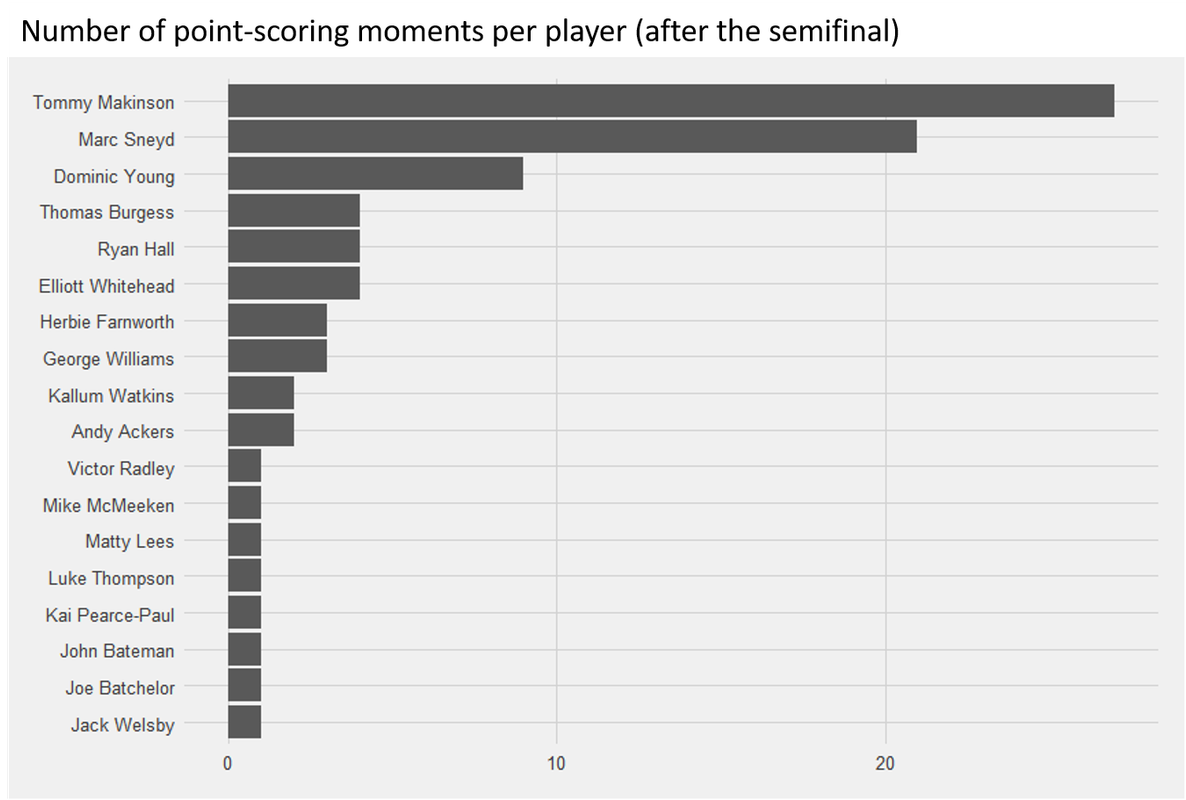 18 of the 24 players in the squad scored in one game or another.
When do England score?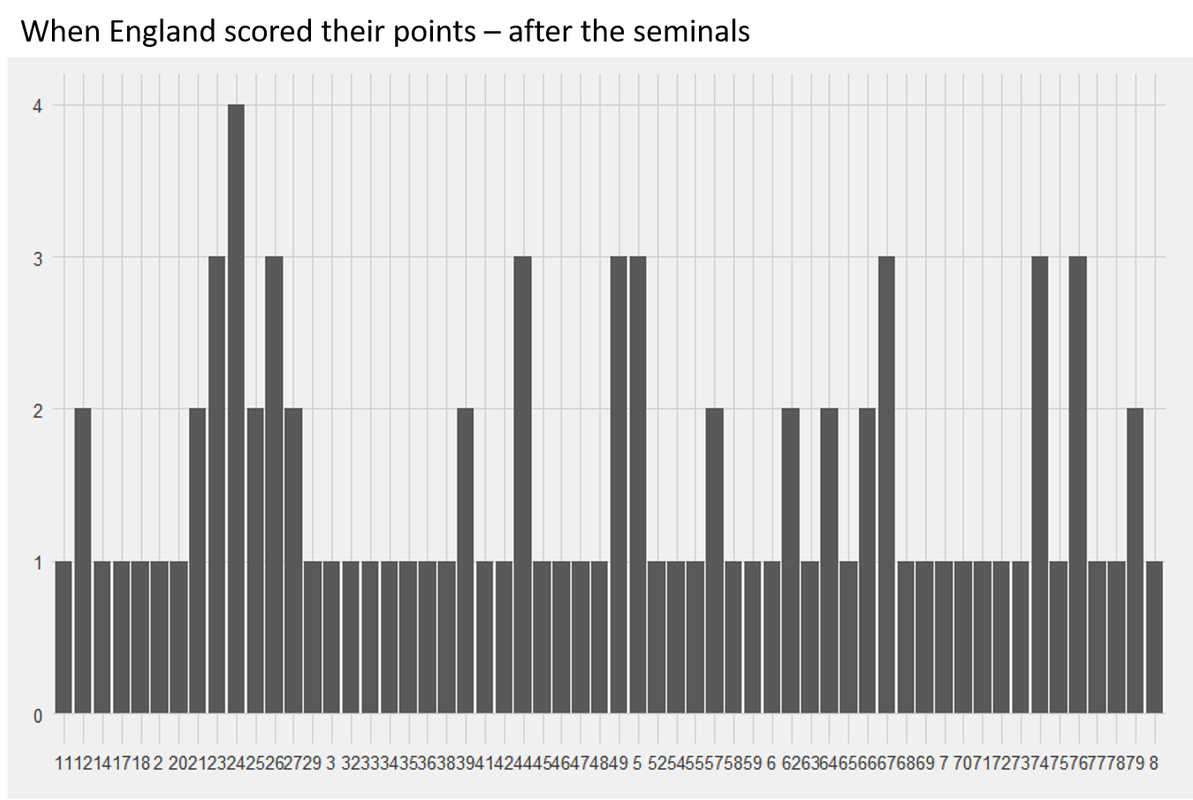 Mostly minute 20-29, then 45-50 then 72-78.
England point-scoring moments by time and player, after the semifinals: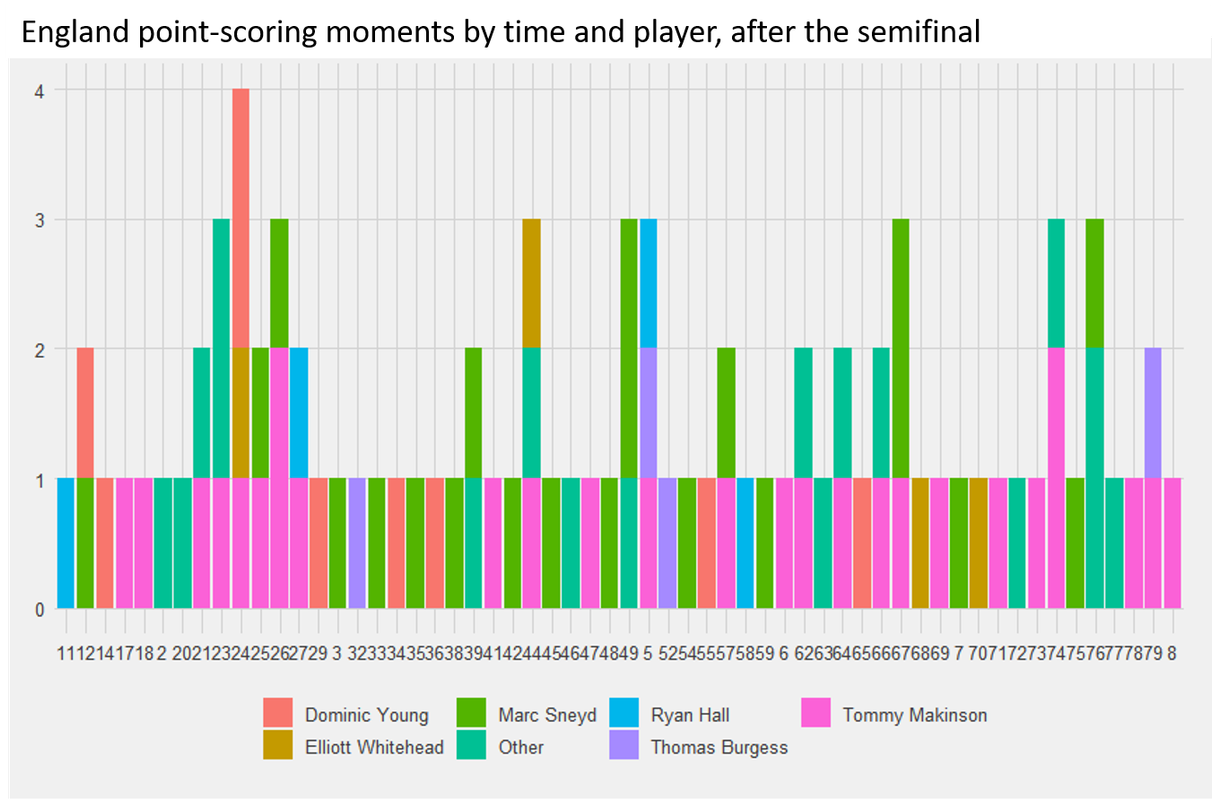 Number of point-scoring moments England players were on the pitch for, after the semifinals: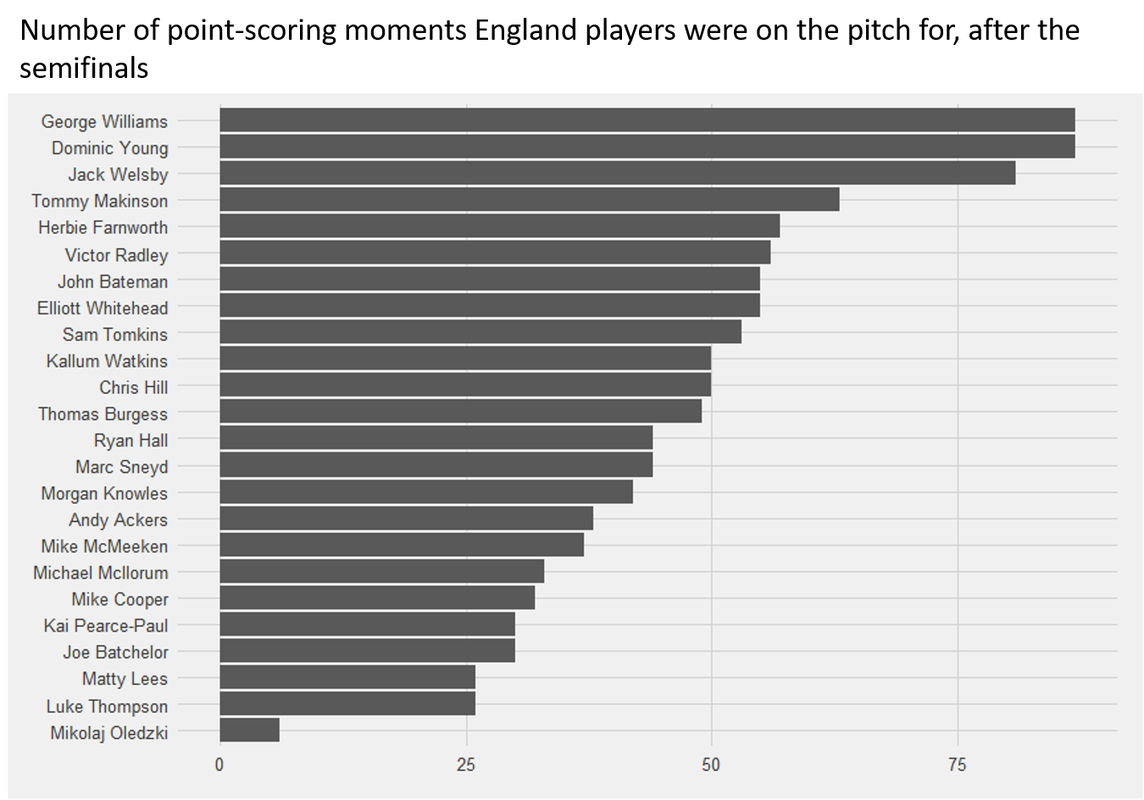 How low Luke Thompson is on this list is fascinating. Not sure if he was just unlucky to be used against fresher oppositions, or with a less creative back row, or what, but it might suggest Shaun Wane shouldn't have swapped Thompson in for Lees or Batchelor. On the other hand, the data may be skewed by the number of points scored versus Greece (about which, more in the future work section), and I can see why you'd want a more experience player in the semifinal.
The "when are players on the pitch" view didn't quite work out, because Wane sometimes started players and sometimes used them as subs. The one player where anything did show up was Morgan Knowles, whose use as an impact player is really visible.
The matrix diagram now looks like this: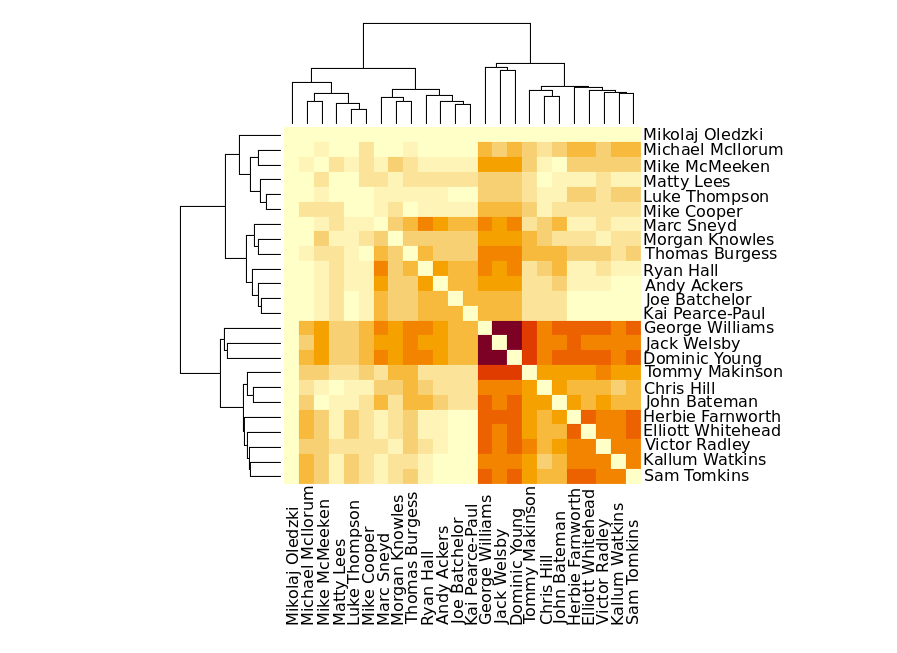 And the network diagram looks like this: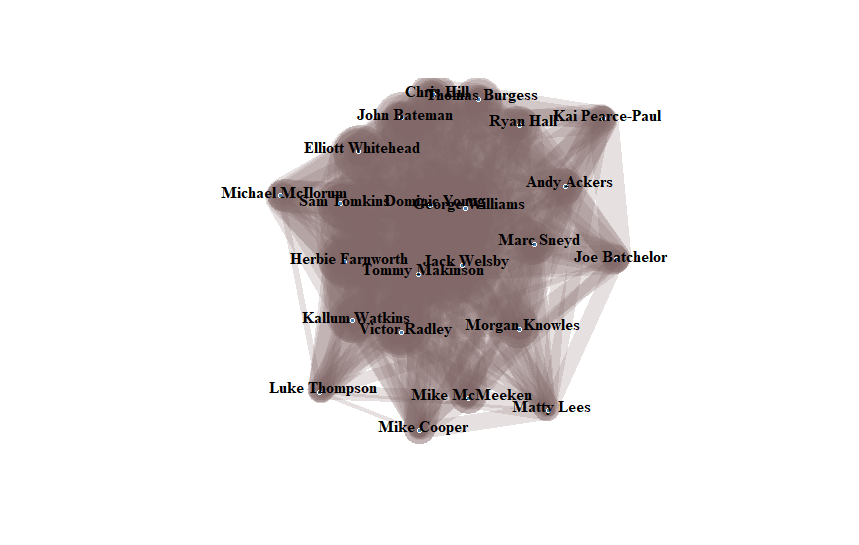 England conceded in 20 point-scoring moments. Unfortunately mostly in the second match versus Samoa. There being a second match against Samoa caused a small amount of difficult in this visualisation – I have gone with calling the team in the semifinal "Samoa2".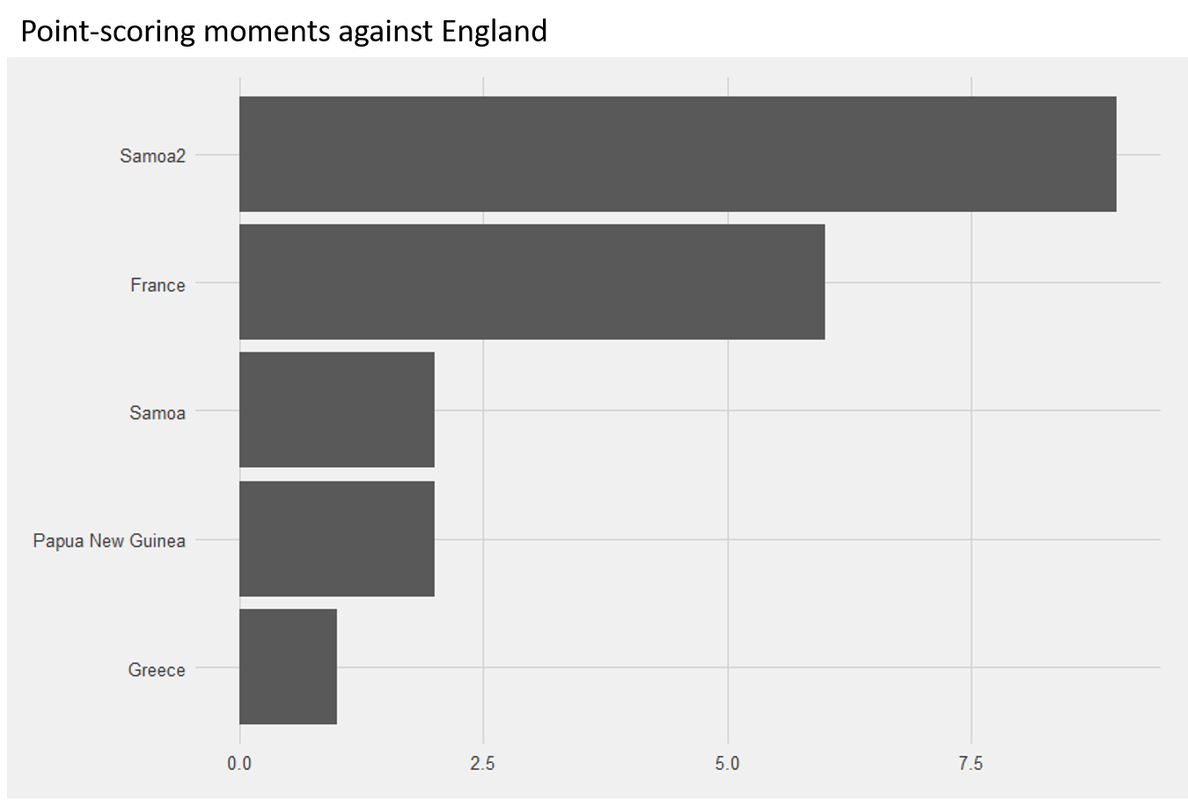 Samoa's improvement, possibly an advert for warm-up games.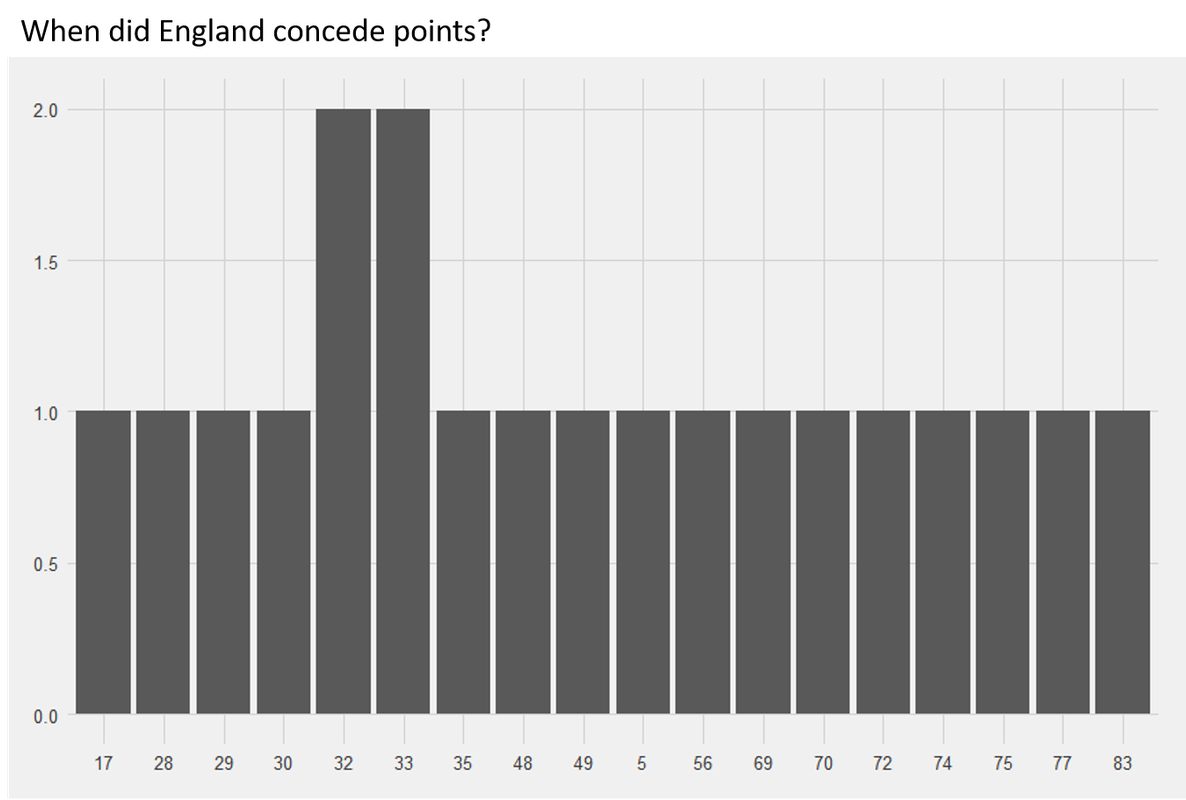 That 83rd minute point score is Stephen Crichton, breaking English hearts.
I have no idea how he didn't win man of the match even before that, but it definitely showed why awarding MOTM before full time is a nonsense.
(Also, he's only 22. If Samoa can keep most of that team together!!! Next time!!!)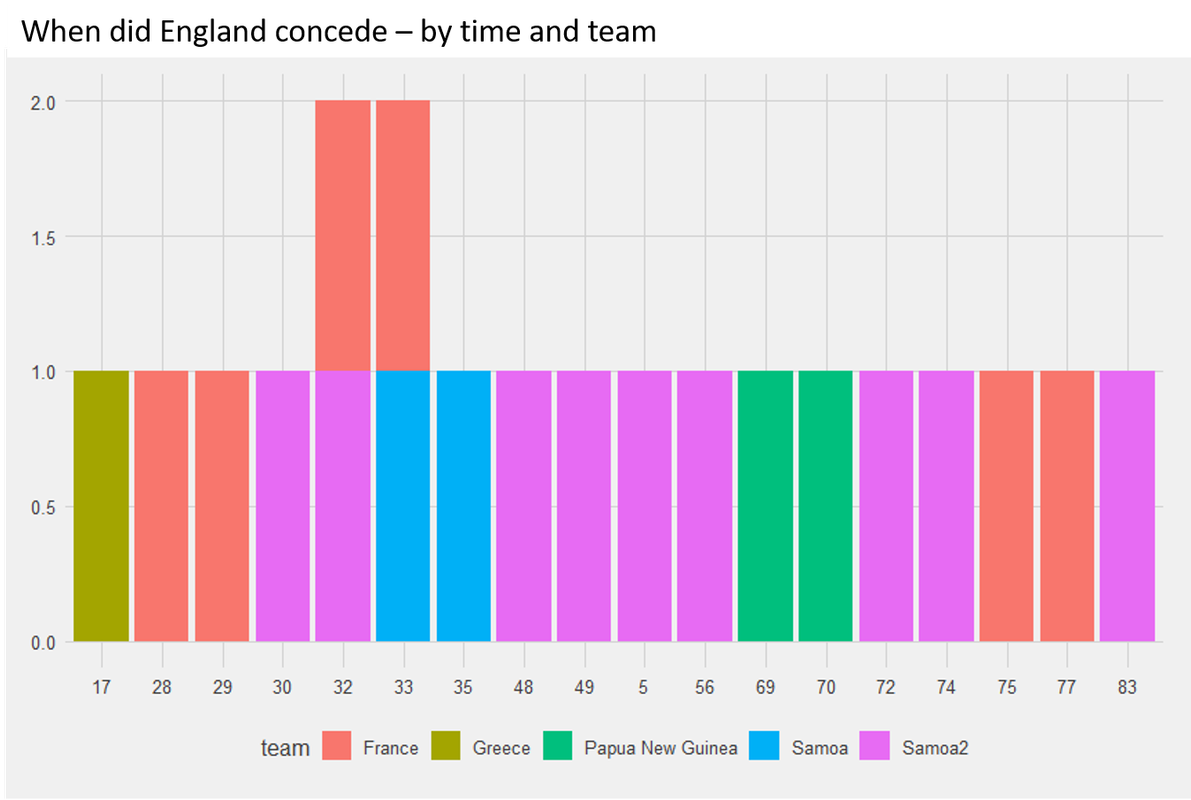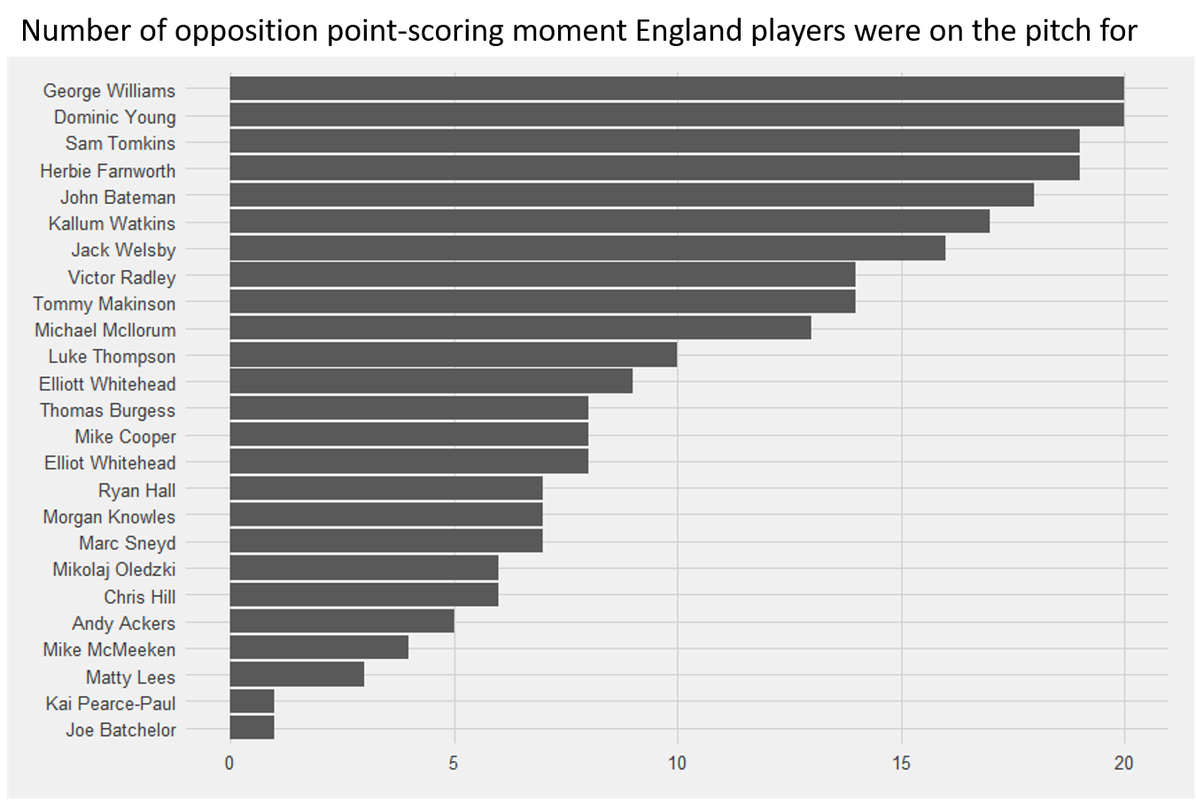 Not normalised for number of games played, or minutes played, but Chris Hill is remarkably low in the list. He's probably my surprise of the tournament – I'm used to him being on Warrington teams that didn't quite win things or Leeds teams that didn't quite win things, but in this World Cup he's been a remarkable solidifying point. It's noticeable that him and Radley were both on when England picked up in the last 20 minutes of the semifinal.
This is also seen in the matrix diagram.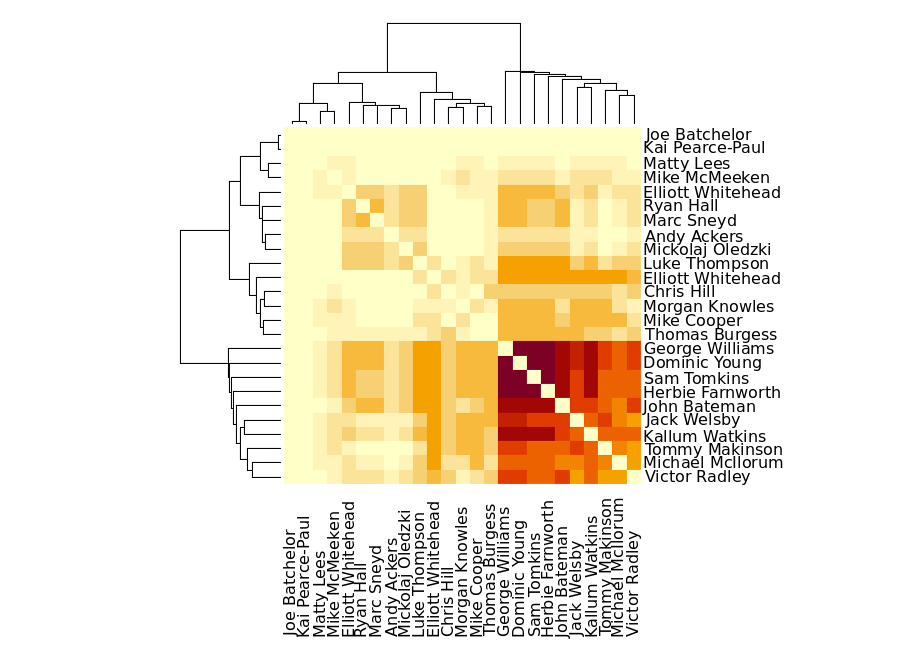 The relatively low points scored against means that, I think, the network diagram is unfair.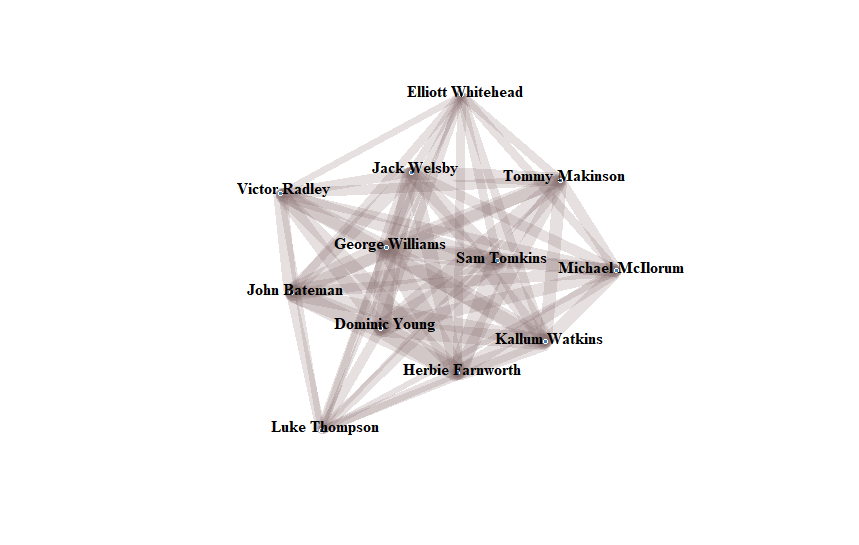 Discussion/Future Work:
This did what it was intended to – from the data, I was able to predict Wane's starting 13 (okay, data and knowing that there's no way Wane wouldn't pick McIlorum). I think the rolling subs do make it easier than the "once you're subbed off, you're off" rules of rugby union.
Because I included tries and conversions (because I had to include penalties for the rugby union) I probably over-weighted the games where there were lots of points (e.g. 94-4 vs Greece) so in future, I might just cover tries and drop goals.